Computational neuroscience aims to develop calculation methods to understand the complex structure/function links in the brain.
This site, hosted at the R.I.S.C., allows us to gather the French Community in computational neuroscience. It includes the list of the teams, resources (in French) and events in computational neuroscience.
Our last news . .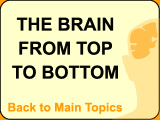 Did you noticed ? The brain from top to bottom is a super site for the large public interested by . . our brain ?
Do not hesitate to
propose
news or facts!.